Some of the best things in life are free and in the Brecon Beacons free can be a lot of fun and definitely memorable. Here are 7 extraordinary things to do for free in the Brecon Beacons National Park.
1. Discover a Waterfall
We love our Brecon Beacons Waterfalls and we know our visitors do to! Brimming with life and wreathed in legend, the waterfalls and rapids in our National Park add an exciting, picturesque and thoroughly romantic touch to our woodlands and hillsides.
One part of our Park, at the head of the Vale of Neath, has so many wonderful waterfalls that we call it Waterfall Country. Many of these cascades are easily accessible on foot, as long as you're prepared to walk through beautiful woods to get there. Find out more here breconbeacons.org/waterfalls
2. Stroll along the Monmouthshire and Brecon Canal
The Mounmouthshire and Brecon Canal stretches 35 miles from Brecon, through the stunning wildlife of the Brecon Beacons National Park right the way through to Cwmbran. Once an important transport route, it's now a lovely place for lazy strolling. Peaceful and rural, with a flavour of times gone by, it's often voted Britain's prettiest canal. It passes through a generous swathe of the Brecon Beacons National Park, with appealing towns and villages to visit on the way. Click here for our top 5 stops along the way.
3. Visit Big Pit
Head to Big Pit to enjoy an exciting day out by experiencing the world famous tour which takes you 300 feet underground with a real miner to see what it was like for the thousands of men who worked at the coal face. On the surface you can visit the original colliery buildings including the Fan House, Blacksmith's Forge, and Stables and winding Engine House. The Pithead Baths have also been restored showing where miners began and ended their shifts. You can also visit the traditional mining exhibition in the Baths building and take a virtual tour through a modern mine.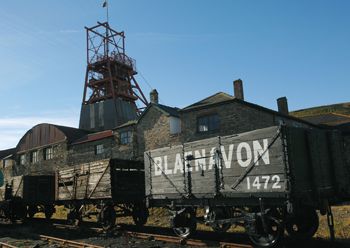 4. Head on a hike for breathtaking views
Our walking comes with that boundless, let's go, let-off-the-leash Beacony feeling you only get in this part of the world. The variety is world-class too. We have lakes and forests, beauty spots and secret places. And trails that suit everyone, from serious outdoor enthusiasts to families out for a Sunday afternoon walk in the park. Click here for some of our top walks.
Head to Capel y Ffin for a wonderful walk, bike ride or drive!
5. Challenge yourself with some of the most iconic and breathtaking cycle routes in Wales!
Our National Park is a great place for a day out on two wheels, or even a cycle touring or mountain biking holiday. Cycling and mountain biking is a fabulous way to experience our glorious countryside. It gives you healthy exercise, relieves stress and allows you to spend time in the fresh air with family and friends.
We have lots of different terrain to explore, including towpaths, lanes and hillside tracks. And thanks to our public transport network, you can leave the car behind – especially on summer Sundays, when the Bike Bus is running. Click here for some of our top cycle routes.
 6. Make a wish upon a star
On a clear night in the Brecon Beacons, you can see the Milky Way, major constellations, bright nebulas and even meteor showers. It's enough to make anyone starry eyed. Our Park has some of the highest quality dark skies in the whole of the UK, making it the perfect destination for stargazers. We think that this is something worth shouting about, so we teamed up with the Brecon Beacons Park Society to apply to the International Dark Sky Association to make our entire National Park an International Dark Sky Reserve. In 2012, we became just the fifth destination in the world (and the first in Wales) to be accredited! Click here for our top 10 places to go stargazing or click here to discover how the Brecon Beacons has recently been named the top place to go stargazing by Rough Guides!!
7. Wander through an ancient woodland
The Brecon Beacons is blessed with many ancient woodlands that are wonderful to explore in any season. They stimulate the senses, from the beautiful songs of the birds and the smell of wildflowers to the crunch of leaves underfoot. Click here for a list of woodlands you can explore.
Make your trip even more memorable by choosing somewhere magical to stay!