The 2018 Good Pub Guide was published on September 7th, with an impressive 33 Welsh pubs named! Last year, there were 27 watering holes from Wales in the guide and each year there's a County Dining Pub of the Year prize given to a Welsh and Scottish pub – which this year went to the Brecon Beacons very own Felin Fach Griffin! The Bear Hotel in Crickhowell also made it into the 36th edition of the Good Pub Guide! Congratulations to both! Read more below..
The Felin Fach Griffin

The Griffin is celebrating retaining the title of Dining Pub of the Year for Wales in the 36th edition of the Good Pub Guide which was published on September 7th.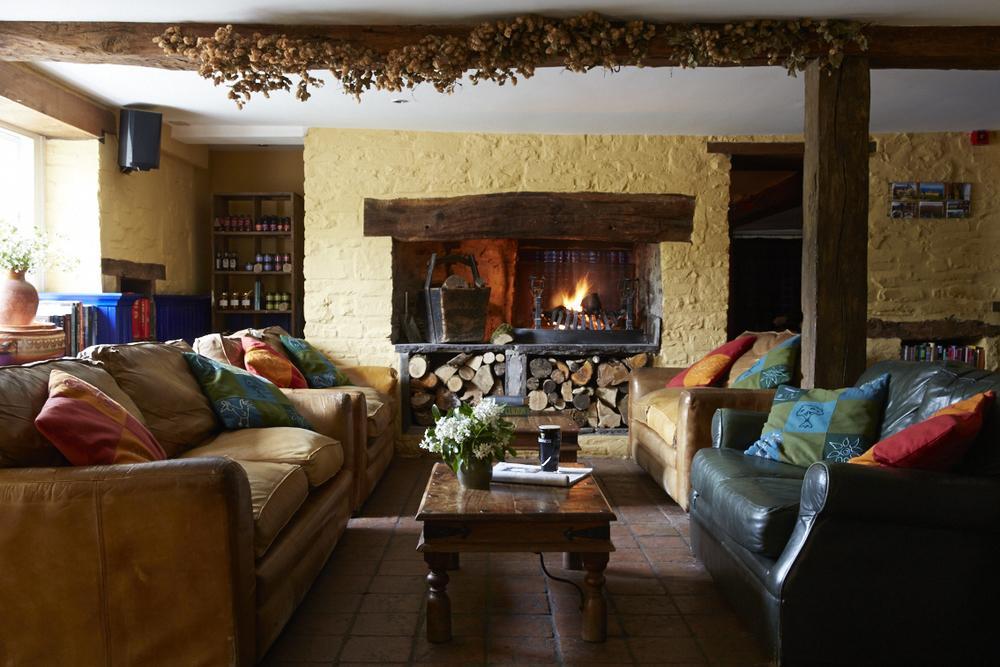 The Griffin, hosted by Julie Bell, is a seven-bedroomed inn in the village of Felin Fach at the foot of the Brecon Beacons, owned since 2000 by brothers Charles and Edmund Inkin through their company EATDRINKSLEEP. It has a thriving restaurant and bar that is a base for the community, supporting local producers, brewers and growers, as well as having its own kitchen garden. The pub follows the brothers' belief in "the simple things done well", a philosophy which was developed during their dairy farming childhood in neighbouring Monmouthshire.
The Inkin brothers also own The Gurnard's Head, near St Ives and The Old Coastguard, an iconic seaside hotel in nearby Mousehole. Both have recently been awarded gold awards in the annual Taste of the West hospitality awards and both achieve bedroom occupancy levels of nearly 95% year-round.  The group now employs more than 120 people in Wales and in Cornwall.
The 2017 Good Pub Guide said of The Felin Fach Griffin: "Highly thought-of dining pub with excellent food, a fine range of drinks and upbeat rustic décor; inviting bedrooms."
Edmund Inkin said: "I'm so happy for Julie and her team that they have retained this award as Wales' leading dining pub. To make guests happy consistently year after year is not easy and it doesn't happen without an enormous amount of thought and hard work from everyone." More here.
The Bear Hotel, Crickhowell
This pub is noted for its wines and its stays, and this historic watering hole dates back to 1432. The historic bar boasts oak beams, wooden floors and open fires. The guide says: "Convivial and interesting inn, a splendid, old-fashioned bar area warmed by a log fire and rewarding food; comfortable bedrooms."
You can eat and drink with friendly locals in the historic bar – with its oak beams, wooden floors and open fires – or in the more intimate settings of our restaurants. In the summer, we'll serve you in our beautiful gardens, surrounded by fragrant flowers and shaded by trees.
Guests can stay in oak-beamed rooms just as stagecoach passengers did or in more modern suites, some with spa baths.
All of this in the charming town of Crickhowell, surrounded by the stunning scenery of the Brecon Beacons National Park, yet just over two hours from London and around an hour from Bristol, Cardiff, Swansea or Birmingham. More here.