July is the perfect time to explore all of the outdoor attractions the Brecon Beacons has to offer –and its an action packed month of events, so get out and enjoy the summer!
1st July- Village Wide Busking Event in Ystradgynlais-Buskagynlais 
A great day of street entertainment and busking A FREE FESTIVAL FOR ALL THE FAMILY!!!The biggest & best street music party Ystradgynlais has ever had…….info here.
It's also your last chance to head to Tawe Valley Arts Week that concludes on the 2nd July. Find out more about the event here.

The South Wales Shire Horse Show happens in Bailey Park every year and aims to improve the breed and promote the breeding of Shire Horses. If you love horses this is something you cannot miss! This year's event will be on July 1st. Prices are £5 Children 12-16 years: £3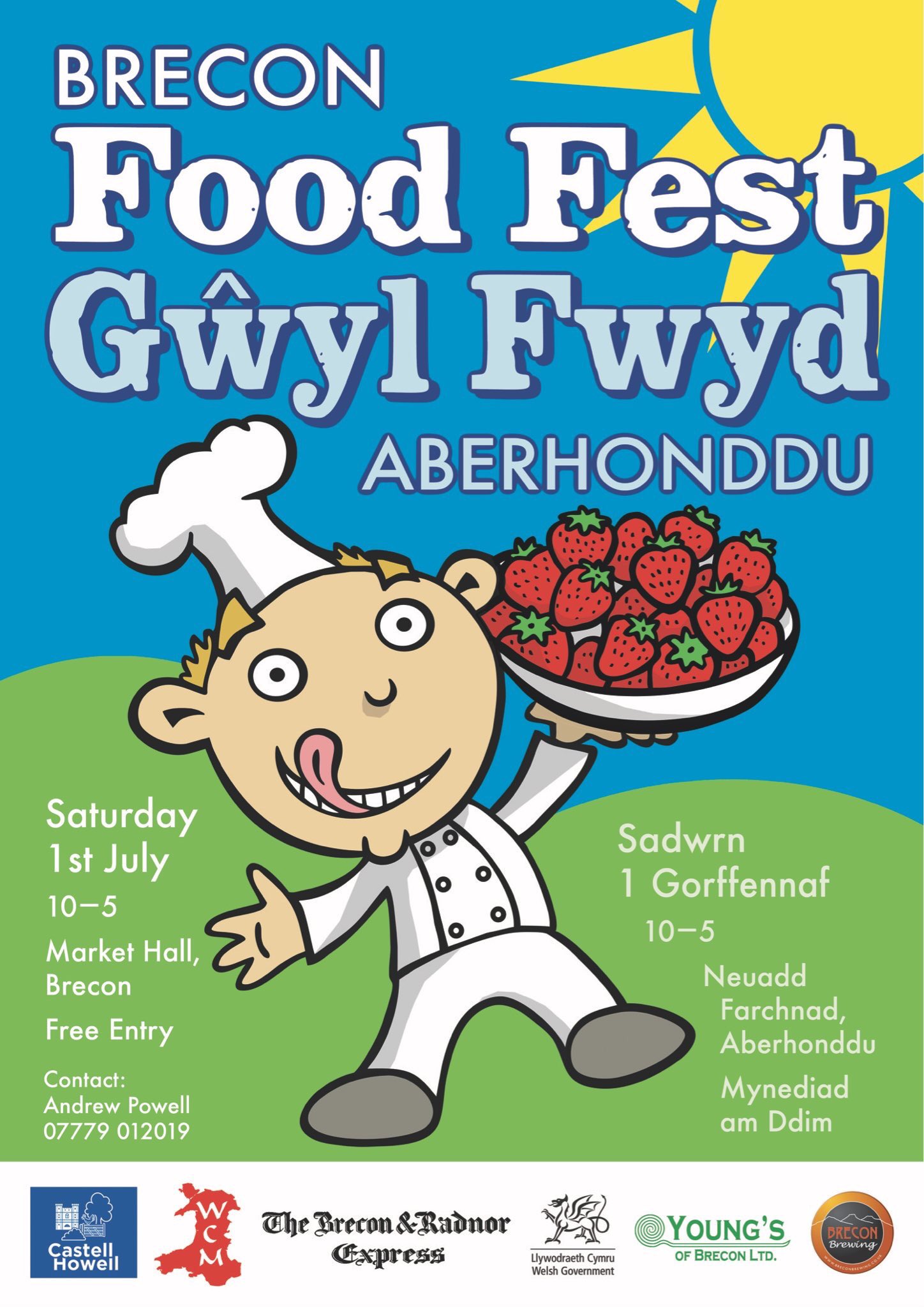 The Welsh market town of Brecon will become a foodie heaven on Saturday 1st July 2017 as it welcomes over 70 food and drink exhibitors to its annual Brecon Beacons Food Festival. Perfectly placed at the heart of the Brecon Beacons National Park this one-day event is a great opportunity to exercise your taste buds. Admission is free and visitors can expect celebrity chef cook-offs, demonstrations from award-winning local chefs, lots of stalls with lovely local ingredients and gorgeous grub, including local honey, bread, pasta, chocolate and beer to take home.
Dating back to the late 17th Century, the Monmouthshire Show has been held on the last Thursday in August.  2016 was the last year it was held on a Thursday.  The day and date is set to change this year, as we move to the first Saturday in July. Each year over 20,000 visitors enjoy a taste of farming and the countryside at our stunning showground on the banks of the River Wye in Monmouth.
An outstanding Grand Parade of British livestock and horses is the highlight of a day packed with the thrills and spills of main ring entertainment, food, farming and a wide range of rural interests. Whether a regular, or a first time visitor, you'll be sure of a warm welcome.
The Fan Dance is a gruelling 24km non-navigational race over two sides of Pen Y Fan, the highest mountain in the Brecon Beacons. This infamous route has long been a part of SAS (Special Air Service) and SBS (Special Boat Service) selection. More info here.
The Llandovery Motorbike Weekend returns for the second year to both celebrate all that is the 'motorcycle' and at the same time raise awareness of road safety and promote first aid and motorbike training.Working in partnership with Carmarthenshire County Council Road Safety Team and its Engagement Partners which include Dyfed Powys Police, Mid Wales Fire and Rescue, RoSPA, IAM, Go Safe to name but a few, we aim to make the event family friendly. There will be a Motorbike Show, motorcycles on display, a Biker Down Course and Enhanced Motorbike Training available plus a variety of stalls, children's activities and on the afternoon of Sunday 9th July 2017, a Parade of Bikes will pass through the town for everyone to enjoy.This a free event, raising funds for Blood Bikes Wales and the Wales Air Ambulance who will both be in attendance over the weekend. Info found here. 
There will also be a free course taking place on Saturday 8th July 2017 from 10.30 am – 13.30 pm during the Llandovery Motorbike Weekend! For both bikers and non bikers alike, don't miss out! Book
here
.
Brecon Farmers Market in mid Wales prides itself on providing value for money. From 9.30am till 2.00pm on the second Saturday every month come along to the historic Market Hall in Brecon and see what we have to offer. The market hall is next to the Nat West bank in the High Street. See our Find Us for directions. There is a vibrant buzz of customers chatting to stallholders about their products, while others sit down and enjoy a cuppa with homemade cakes or a hot snack in the café, with background music from local artistes. Info here.
15th-Jaguar Rally 2017
A fleet of legendary Jaguar sport cars will be retracing a Welsh route that made motoring history, on Saturday the 15th of July. A fleet of 24 historic Jaguars will be flagged off at 11am from the Brecon Castle Hotel by the Mayor of Brecon, VIP guests and local school children. The convoy will head along the A40 to Llandovery, take the A4069 down the Tywi Valley to Llangadog, and the A40 to Llandeilo (they'll pass through the town at around 11.30am). Click below to discover how Wales helped create a classic-it's definitely a sight not to miss!
More info can be found here.
Founded in 1988 in the heart of the Black Mountains, Cwmdu Show is a local village show with fantastic support and a
great atmosphere, all brought together with the help and enthusiasm from our local families.  With children's games and sports, vintage displays, dog shows, sheep classes, horse and pony qualifiers, its a family day out for all ages.
Cwmdu show is located on one of our local village farms by very kind permission of Chris & Liz Bowen and their family. Info here.
There will be a musical soiree at the house, on Friday 16 June, featuring pianist, Gerald Jones. The concert will be preceded by a champagne reception and, if the weather permits, we shall be holding this on the lawns of the mansion (if you watched the recent serialization of Evelyn Waugh's 'Decline and Fall' on BBC television you may remember the surreal 'Sports Day' on those same lawns!). The musical entertainment to follow will of course be in the house itself and there will be chairs for those who prefer to sit at the same level as that on which the Bechstein Grand Piano will be situated, rather than using the more elevated vantage points provided by the ornamental stairs. If you intend to sit on the stairs then please feel free to bring a cushion along with you. Tickets £15 (to include Champagne reception and a fork). Info here.
21st- Gin Fever at The Abergavenny Hotel
If life gives you lemons….make a G&T!
The Abergavenny Hotel presents 'Gin Fever' – our first Gin festival.Come and join us for a celebration of Gin & Gin cocktails on 21st and/or 22nd July from 6pm…order your favourite or try something new!We look forward to seeing you there!
The pinnacle event in the British agricultural calendar, the Royal Welsh Show, will be held on 24 – 27 July 2017 at the showground in Llanelwedd.
Along with an exciting four-days of livestock competitions, with entries travelling from far and wide to compete, the show has something to interest everyone through its wide range of activities including forestry, horticulture, crafts, countryside sports, shopping, food and drink and a 12-hour programme each day of exciting entertainment, attractions and displays.
Sponsored by Wales Biodiversity Partnership
Join Liam Olds and learn about the biodiversity that hides amongst the wastelands of Wales' quarries and coal tips. Starting with a fun and picture-based presentation, Liam will introduce you to the plants and animals often found in this habitat. He'll help you learn how to identify them, especially the invertebrates as these are his specialism. After lunch, you'll head out into the field to look for specimens and practice you ID skills.
Location: Craig-y-nos Country Park, SA9 1FD
Time: 10:30am – 16:00pm (weather dependent)
Cost: £10 payable in advance via bank transfer, cheque or cash
Details:
The car park is pay and display
Bring clothing suitable for outdoors work (layers, sturdy shoes, waterproofs, sun cream, hat etc.)
Tea, coffee, biscuits and water will be provided
A lunch break will be given mid-way; bring a picnic or there is a café on site
Toilets are available in the conference room but not once out and about
Joining Instructions: Places are limited, so booking is essential. Please contact anna@bis.org.uk or call 01874 610881.
Situated in the beautiful historic Welsh border town Monmouth Festival is a nine day free festival offering the unique atmosphere of yesteryear festivals in the here and now. Music is the very essence of Monmouth Festival. We take great delight in showcasing an eclectic mix of iconic legends, local artists and up and coming young talent, dance, classical, country, folk, jazz, pop, rock'n roll, ska, world music and so much more. Our aim is to enable everyone to enjoy a live music performance whether it is in the open air, in a church or pub; whether it is an old favourite, new or local talent, there is something to please everyone.
Throughout its 35 years the Festival has got bigger and better and now includes the Family Fun Day, Busking Festival and a growing Fringe.  The Festival prides itself on being extremely friendly, relaxed and an opportunity for families and all generations of people to come together and enjoy themselves.
Local producers selling their own produce that has been grown, reared or made by them. You'll see seasonal 
vegetables and fruit adorning the stalls along with every other produce that customers need for their weekly shopping list!
FREE Family friendly event – Cardiff Astronomical Society invite you to the Visitor Centre
to enjoy a rare chance to see our nearest star in close-up. Solar telescopes will be set up (weather permitting!) to allow you to view the sun safely. Come and have a peek, and find out how to get involved in astronomy.
Located in Llangynidr Village Hall, the monthly Farmers' Market offers a great range of local produce.
Open 10:00am – 1.00pm
Meet our suppliers and be spoiled for choice. Stalls include locally produced meats, butter, eggs and cheeses; cards; knitted and other craft items; cakes and Fairtrade products.
Free Parking in the Village Car Park directly opposite the Village Hall (map below).
No Entry Charge
Why not combine your visit with a walk along the Brecon and Monmouthshire Canal, lunch at one of the village's two pubs or a Sunday service at one of our chapels or church.
30th-Party in the Park
Celebrating the 60th Anniversary of the Brecon Beacons National Park Authority. Taking place at two venues; The National Park Visitor Centre near Brecon and Craig-y-nos County Park, Pen-y-Cae.
Pick a venue, bring a picnic and come and celebrate with us!
Activities – all free but must be booked in advance at the information desk.
The National Park Visitor Centre
Decorate a celebration cupcake
The Dark Skies Planetarium
Solar Scopes with Cardiff University
Family arts & crafts activities
Have a go at geocaching
Walks with wardens
Diamond People exhibitionThe Beacons View café will be open as normal and running a BBQ for visitors to purchase food from.
Craig-y-nos County Park
Decorate a celebration cupcake
Paws in the Park
Family arts & crafts activities
Go orienteering
Have a go at caving
Brave the zipwire
Pond dipping
A Geopark walk
Diamond People exhibition
Games on the lawnThe Changing Seasons Tea Rooms and Restaurant will be open as normal for visitors to purchase food.
For full event listings click here.