What's with all the Royal Welsh excitement?
As one of the pinnacle events in the British agricultural calendar, the annual Royal Welsh Show is an action-packed event with four-days of exciting competitions, livestock, forestry, horticulture, crafts, countryside sports, shopping, food and drink, a 12-hour programme of non-stop entertainment, attractions, displays and much more… the list goes on!
When and where?
24 – 27 July 2017 at the Royal Welsh Showground in Llanelwedd, Builth Wells
The show is held every July at the beautiful Royal Welsh showground, nestled in the picturesque countryside of Mid-Wales.
For some it's an annual pilgrimage for the whole week, for others it's a day out to remember each year… but, surprisingly, there are some who have never had the 'Royal Welsh Experience'. We know! It's hard to believe. So, with only six weeks to go, here are just a few reasons why you should visit…

1. Animals galore
With over 8,000 livestock entries, the animals are one of the main attractions at the show each year. Exhibitors travel from far and wide to bring their potential prize winning animals to the show with expectations of returning home with a highly sought-after Royal Welsh rosette. There will be plenty of opportunities to watch the judging and displays and to also get up close and personal with a huge variety of animals, including; horses, cattle, sheep, goats, pigs, rabbits, chickens, pets, and even some snakes and spiders!
2. Noise, speed and danger
With an exciting 12-hour programme of entertain

ment each day, you'll be kept busy all day long. The show is bigger and better than you could ever imagine with non-stop action in the main ring from the minute you arrive at the showground.
Whether you are attracted to the majestic horses, the impressive livestock displays or the thrill and danger of the displays, there is something for everyone to enjoy. All the entertainment, attractions and displays are included in your ticket price, so come along and make some unforgettable memories.
3. The Flying Frenchman 
Known as "The Flying Frenchman," Lorenzo the International Horse Display is joining us at the show from his home town of Saintes Maries de la Mer in southern France.

You will be treated to an incredible display of dare-devil stunts which includes flying over a series of jumps while standing on the backs of several of his stunning horses! His show, which is a demonstration of incredible skill and control, will have you biting your nails and holding your breath in suspense and anticipation!
4. The Kangaroo Kid
Daring tricks, amazing wheelies and spectacular jumps! A thrilling performance by world class Australian stuntmen. With their incredible skills and nail-biting tricks, the daring-duo will hurtle around the main ring on their quad bikes, keeping you on the edge of your seat throughout the seriously exciting performance!
5. Jumping out of a plane!

Joining us for the first time will be the amazing RAF HAWKS Parachute Display Team. All taking time out of their busy active duties in the RAF, the team will be flying from Swansea to jump into the main ring on the first three days of the show. Once landed, you will be welcomed into the ring to meet the team in person.
6. Quack Pack
The combination of clever Border Collies with cheeky Indian Runner ducks makes a highly interactive and humorous display. You'll be able to join Meirion and his trusted quack pack in the ring for a chance to get hands-on with the display.
7. Free parking
Visitors can enjoy easy, quick and hassle-free parking with our superb park and ride service – just what you need after your journey to beautiful Powys.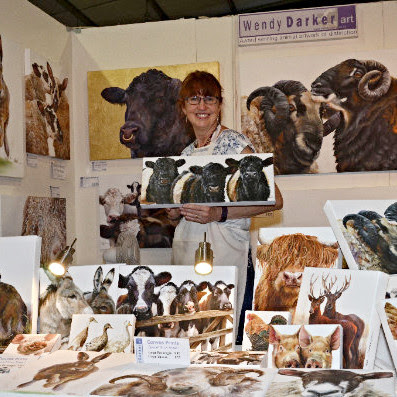 8. Shopping, shopping and more shopping!
You really will be able to shop until you drop with over 1,000 tradestands at this year's Royal Welsh Show. There will be plenty of opportunities to treat yourself as you enjoy a stroll through our shopping avenues and marquees. From clothing to tractors, livestock equipment to jewellery, artisan gifts to furniture, plus lots more! And don't worry about having to carry it about all day… we have dedicated 'shopping crèches' where you can leave your precious purchases until you're ready to go home.
9. Food & Drink
When it's time for a spot of lunch or if you fancy a tasty treat, just follow your nose. You'll not be left disappointed with so many opportunities to enjoy mouth-watering experiences around the showground. Whether it's in our Food Hall, Festival of Food Marquee, Farmers market or from one of the many food outlets, you will be surrounded by tempting tasters produced from Wales and further afield.
10. Big, shiny tractors
It's every little (and big) boys (and girls!) dream. Avenues and avenues of the latest, high-tech machinery on display. Whether it's a new quad bike, a shiny new tractor, a state-of-the-art combine harvester or a new horse box, the range of kit at the show is huge. Enjoy a browse and take a seat on some seriously impressive equipment!
11. Shearing
Undoubtedly one of the most popular places to be during the four-days of the show is the Meirion Shearing Centre. Make sure you lend your voice to the national anthems as you watch as the Welsh Team compete in test matches against the national teams from England, Scotland, France, New Zealand. The incredible atmosphere and the noise from the thousands of cheering supporters raise the roof while the skillful shearers from across the world battle through a packed schedule of competitions.
12. Sports Village
Bring the kids along to enjoy our Sports village. There will be plenty to keep you, and them, entertained with rugby, football, golf, trampolining, judo, netball, tennis, cricket and more. You might even get the chance to meet representatives from the Scarlets, Cardiff Blues and Ospreys teams!
13. Horticulture
For the green-fingered amongst us, our horticulture marquee will be your perfect idyll. Packed to the brim with an impressive range of plants, vegetables and floral art displays, competitions, trade stands, workshops, on-stage demonstrations and talks, children's gardening competitions, the Welsh  National Honey Show and lots more!
14. Competitions
We're an agricultural show, first and foremost, but it's plain to see from thousands of competitions held throughout the four-days that there is something for everyone:
– Livestock, shearing and woolhandling
– School arts, gardening and photography
– Homecrafts, cookery, produce and handicrafts
– Dairy produce, cheese, butter, ice-cream
– Welsh National Honey Show
– Pets, rabbits and guinea pigs
– Woodlands,  treefelling and  woodchopping
– Poultry and pigeons
– Horticulture and floral art
– Farriery, ironwork and jewellery
– Tug of war
– Grassland, silage and farm buildings
Impressed yet? The list goes on…
15. Join 14,000 party-goers in the Young Peoples Village

 Running alongside the Royal Welsh Show, the Young People Village attracts over 4,000 campers and 14,000 party-goers as Wales YFC hosts the biggest festival in Mid Wales.
Excited revellers can join in with the fun from theSaturday before the show and be entertained each night by a host of local and national stars, from up and coming Welsh bands to Radio 1 DJ's, including Greg James. Check out their website for more info here.
And the best bit… if you book your tickets online before 9 July you'll even get a discount! For more details or to buy your tickets today, visitwww.rwas.wales